Johan Cruyff was known for many things, including winning the Ballon Dor three times and being the most famous exponent of "Total Football". But perhaps what he was best known for is the infamous skill he conjured up in the 1974 World Cup, the Cruyff turn.
The trick involves appearing as though you're about to pass or shoot, but instead faking the action and dragging the ball behind your standing leg with the inside of your foot, turning your shoulders and dribbling off in the opposite direction.
Steps to perform a Cruyff Turn:
Get the ball out of your feet and within striking distance in front of you.
Shape up as is if you are about to strike the ball.
Instead, drag the ball behind your standing leg with the inside of your foot and simultaneously turn shoulders.
Having turned, move away at speed to evade a defender.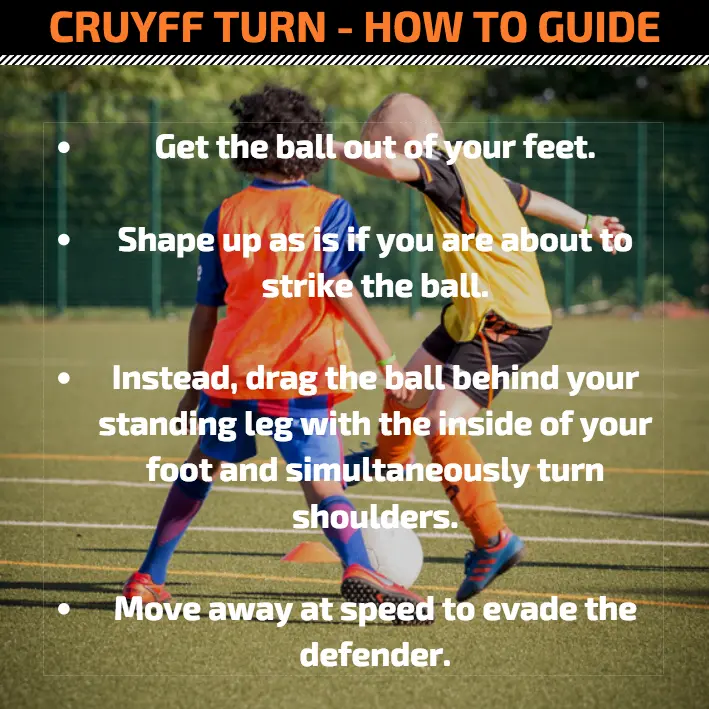 Cruyff first executed the move during the group stage match between Holland and Sweden, dazzling the West German crowds. It's was a move that was widely unknown before 1974, but nowadays you will see it performed across the globe, as it is a brilliant manoeuvre for losing opponents and changing the direction quickly and efficiently.
The skill, therefore, is one that every aspiring football player should have in their arsenal, if you don't, and if you want to learn how to master it for yourself take a look at this video on how to master a Cruyff Turn.
The Cruyff Turn is a fantastic skill to learn whilst you are young, as it is effective but yet simple, meaning that a player even in the early stages of their development can perfect it. For other skills to learn in the early stages of a players development take a read of our recent blog on skills for 6-8-year-olds.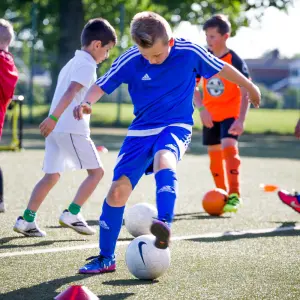 Here at We Make Footballers we believe that it is vital for young players to have confidence on the ball, good dribbling technique and an array of skills, as this means that they will be able to take on and get past a defender, which will hopefully lead to them creating goal scoring opportunities. If you want more tips on how to create and score goals take a look at our blog on Top tips to be a goal scoring striker.
We therefore make it a priority to teach our players a large number of different skills and ball manipulation techniques in both our Weekly Training and Holiday Camps. With the Cruyff Turn being one of the first skills that we introduce to our players.